LinkedIn Profile Optimization
Why do you need a LinkedIn profile at a time when the idea of ​​digital detox is becoming more popular, and people are trying to spend as little time as possible on social networks? Our answer: if you are actively developing your career, and even more so if you are looking for a job (even passively), it is worth registering on LinkedIn
What is LinkedIn?
LinkedIn is a social network for business communication, employee search and open vacancies. Therefore, the list of your LinkedIn friends most likely, will not be your former classmates. They will be your colleagues from different jobs and HRs from different companies. Even statuses on LinkedIn are not about marriage or engagement, but about how actively the user is looking for a job
Finding a job is just one of the reasons to sign up on LinkedIn. After all, LinkedIn is a social networking site, not a website for the unemployed
So, let's tell you what LinkedIn is usually needed for.
Thus, keeping a page on LinkedIn will be useful even for those who are not looking for a job: to keep in touch in their professional environment, keep up-to-date with the latest industry trends and develop their own business
Job search
You can search for jobs on LinkedIn, connect with recruiters and employees of companies you are interested in, and compare your profile with other members and draw conclusions about your competitiveness
Business
Expanding and strengthening professional ties. Add potential business partners as friends – even if they do not even know about your existence yet, your cooperation can begin with an acquaintance on the Internet
Sales
LinkedIn is also used to build relationships with customers or potential buyers. Join relevant groups, search for content related to the target company, personalize your sales with LinkedIn
Employee search
HRs actively use LinkedIn to find the right candidates quickly, contact them directly, and keep in touch with those who are not yet looking for work, but are potentially attractive to the company
How LinkedIn differs from Facebook?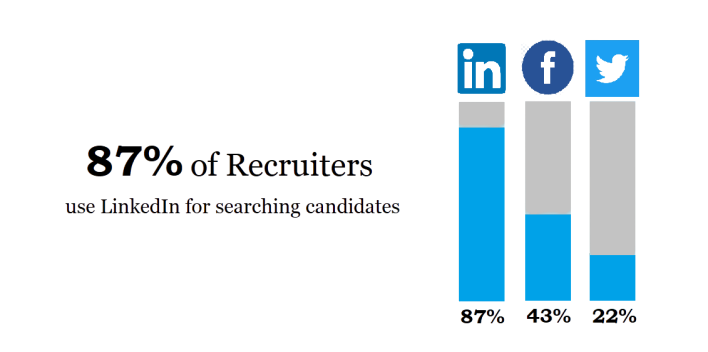 It would seem that you can look for a job and add professionally interesting people as friends on Facebook, why not limit yourself to them? Still, it is LinkedIn that is a social network created specifically to expand the network of professional contacts and find work. There are many more career opportunities
You will know exactly who and how many times has viewed your LinkedIn profile. Likewise, your views will be visible to other users. There is an anonymous browsing function in the settings, but we do not advise you to use it very often: what is the point of hiding if you logged into LinkedIn precisely to announce yourself and your searches?
Apart from photos and videos, you can also attach other documents, for example, in Word and PDF format to the posts on LinkedIn. This is a useful feature considering LinkedIn posting resumes, portfolios, or test assignments for candidates
You can post articles on LinkedIn. In addition to traditional posts, LinkedIn gives users the ability to publish full-length articles with illustrations and rich formatting options. This is convenient if you find it difficult to find another external platform for publication, or you know for sure that your article is of interest to the LinkedIn audience
Your LinkedIn profile is your resume. By filling it out, you indicate the same information that is usually added to the resume. You can download your LinkedIn profile in one click in pdf format – and now your beautifully designed resume with all the necessary sections and a photo is ready. So update your information on time – and you won't have to suffer over how to write a resume